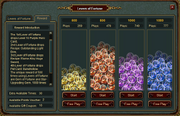 Levers Of Fortune- As you can tell from the picture on the right you get one free play in the Levers each day. After that you can play extra times according to your VIP level. The lower the number the higher chance that you get the special reward that each lever has. Mammoth builders, Jade Hares, Moonlight Boxes and various resource packs are just a few of many other miscellanious items attainable in the Levers.
Ad blocker interference detected!
Wikia is a free-to-use site that makes money from advertising. We have a modified experience for viewers using ad blockers

Wikia is not accessible if you've made further modifications. Remove the custom ad blocker rule(s) and the page will load as expected.